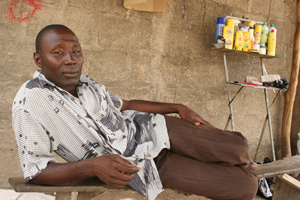 Business is slow in Maiduguri
MAIDUGURI, 5 July 2012 (IRIN) – More than 1,000 people are estimated to have died in bombings and shootings by Islamist extremists in northern Nigeria since 2009, but an additional casualty has been the jobs and opportunities lost in an already deprived region.
"The economy has been ground down, people are running from the city," said Joshua Bullus, a deputy pastor in the northeastern city of Maiduguri, where Jama'atu Ahlis Sunna Lidda'awati wal-Jihad (People Committed to the Propagation of the Prophet's Teachings and Jihad), better known as Boko Haram, began.
Maiduguri, the capital of Borno State, bordering the Sahelian countries of Niger, Chad and Cameroon, was the centre of a thriving livestock-based economy, with an ancient trade network extending as far as Sudan and the Central African Republic. But despite its illustrious past, the region is one of Nigeria's least developed.
When Boko Haram declared war on the federal government in 2009, the northeast was already at the bottom of virtually all socio-economic indicators – its marginalization a clue to the violence, according to several analysts. From literacy to child survival, Nigeria's Demographic Health Surveys consistently reflect a region that has been left behind by the rest of the country.

Motorbike taxi ban
Commercial motorbike taxis, popularly known as `okada', offer one of the few urban job opportunities for young men across Nigeria – typically those with a bit of schooling. `Okada' riders are key to what makes cities work, and in risking Nigeria's formidable traffic and the scorn of car-users, they earn well over the national minimum wage.
In July 2011, the state government banned both private and commercial motorbikes from the streets of Maiduguri in response to their use in ride-by shootings by Boko Haram. "The government is not helping the youth," a University of Maiduguri student, who asked not to be named, told IRIN. "The `okada' ban is encouraging the youth to join Boko Haram because they don't have anything."
An additional security measure, a 7pm curfew enforced by a federal unit called the Joint Task Force (JTF), has also effectively closed the "night market" – the small kiosks that sold household items and fast food until midnight, serving essentially low-wage earners and an important rung in the informal economy.
"A person can leave his house with 10 naira [6 US cents] in his pocket, struggle for business all day, and then go to the night market to find food for his family," explained a senior state government official. "Now from 6pm everybody is rushing home." With Ramadan approaching later this month, when fasting is broken at sunset, the curfew will become even more burdensome.
The JTF has struggled to contain Boko Haram attacks that have targeted state institutions, churches, and individuals seen as critical of the group. The insecurity has led transporters to increase their costs, which has had a knock-on effect on food prices: according to Bullus, his household food bill is now one third more than last year.
Whether they are terrorists or whatever they are called, people want the government to negotiate because millions of people are suffering
Most traders from the southeast, who cornered the spare-parts market, have shuttered their shops and moved on in response to the violence, adding to Maiduguri's sense of isolation, and denying local land owners valuable rent. The closure of the borders with Niger, Chad and Cameroon – to prevent Boko Haram infiltration and escape – has had even more far-reaching consequences for the local economy.
"The border trade has virtually stopped, people are suffering, the livestock market has dropped by 50 or 60 percent," said Mohammed Nur Alkali, director of the Centre for Trans-Saharan Studies at the University of Maiduguri.
Potiskum in Yobe State, a three-hour drive south through at least 20 security forces road blocks, was until May this year the largest livestock market in Nigeria, and probably West Africa. A gun and grenade attack on the market by what traders say was armed robbers, and the state government claims was Boko Haram, killed at least 34 people, and has scattered business to smaller markets in the region.
Once a week, Potiskum would be packed with trucks and trailers from across Nigeria, especially the southeast, and businessman with cash to spend. Now "the market has halved, even if you bring the cows nobody will buy," one trader said. Cattle prices are a third lower than before the market was attacked; animals now come from nearby villages instead of the international trade of the past.
Call for government to negotiate with Boko Haram
Back in Maiduguri, the state government official, as with everybody in the city IRIN spoke to, said peace talks had to begin with Boko Haram. "Whether they are terrorists or whatever they are called, people want the government to negotiate because millions of people are suffering." He added that the easing of the state of emergency would be a welcome interim measure.
Boko Haram says it is at war with the federal government, and its goal is the imposition of Islamic shariah law across the entire country, including the south where the majority of people are not Muslims. "There is a negotiating position, and then there is the true position of a person," a Maiduguri-based analyst told IRIN. "The group has told the world they want their people released from prison, that is their real concern, not shariah."
He added: "If I were the president there would be things I would do behind the scenes. I would work with traditional leaders, as they know the situation. The solution has to be found from inside, rather than imposed from the outside."