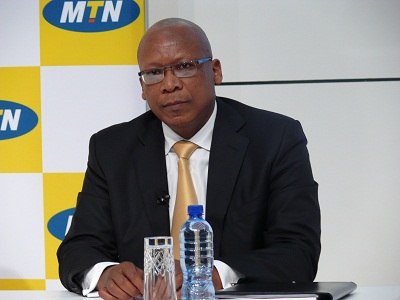 Telecommunications is one of the fastest growing industries on the continent, with many companies looking to either enter or expand on African soil. IT News Africa compiled a list of the ten biggest telecommunications companies based on turnover at the end of 2011, and found that three of the companies profiled are based in South Africa.
MTN Group President and CEO Sifiso Dabengwa (image: Charlie Fripp)
1. MTN South Africa
MTN is without a doubt the biggest mobile operator in Africa, based on turnover and the number of subscribers. In a recent revenue presentation, the company revealed that they have over 176-million subscribers across 16 countries in Africa and six countries in the Middle East. MTN's revenue for the first quarter of 2012 was up by 17.5% to R66.4-billion, and the company made R38-billion in the South African and Nigerian markets alone. MTN South Africa currently has 23.5-million subscribers.
Revenue for 2011: $9.4-billion
2. Vodacom Group (South Africa)
Vodacom, whose parent company is UK-based Vodafone, is the second largest company trading in Africa, with a 2010 revenue of over R9-billion. On a continent-wide scale across all the industries, Vodacom ranks 9th in terms of revenue, with Vodacom South Africa coming in 14th place. In a recent report, Vodacom South Africa had a 2010 revenue of over R6-billion, and its subscribers have been on the increase thanks to highly competitive pricing structures and promotions. Vodacom South Africa currently enjoys 58% of the South African mobile market, with around 23-million subscribers.
Revenue for 2011: $7.7-billion
3. Telkom (South Africa)
Telkom is South Africa's largest fixed-line and wireless service provider, and operates in more than 38 countries throughout the African continent. The South African government has a 39% stake in the company, founded in 1991. At the end of 2011, the group's operating revenue decreased by 3.2% to R16-billion, with R15-billion coming from their fixed-line offerings.
Revenue for 2011: $4.7-billion
4. Orascom Telecom (Egypt)
Orascom Telecom Holding, which is the parent company of Orascom Telecom, is one of the largest operating GSM networks in the Middle East, Africa, Canada and Asia. The company is also 51% owned by Russia's Vimpelcom, and is the 6th largest mobile telecom provider in the world. Revenue for the company at the end of 2009 was $5.065 billion, but that took a dip in the following two years. In the late 90's the company saw a surge in subscribers, climbing from just over 200 000 in 1998 to over 101 million subscribers after Wind Telecom bought a sizeable stake in the operation.
Revenue for 2011: $3.6-billion
5. Maroc Telecom (Morocco)
Maroc Telecom is the main telecommunications company in Morocco, and is partly owned by technology company Vivendi. For the first three months of 2012, the company posted consolidated revenues of $890-million. The company also saw growth in its international business, with a 21% year-on-year rise in revenue. At a results presentation in March, the company revealed that it had 17.1-million subscribers, which included 1.2-million 3G customers and 1.08-million contract subscribers. Maroc Telecom also has a number of subsidiaries in Burkina Faso, Gabon and Mali.
Revenue for 2011: $3.4-billion
6. MTN Nigeria (Nigeria)
Operating under the banner of South Africa-based MTN Group, Nigeria has been the golden boy in terms of subscribers and revenue for the group. Outside of South Africa, Nigeria is the group's most profitable nation, bringing in over R13-billion in the first quarter of 2012. In terms of subscribers, MTN Nigeria saw a 4.8% increase in the number of subscribers, bringing their total in Nigeria to over 43-million.
Revenue for 2011: $1.9-billion
7. Orascom Telecom Algerie (Algeria)
Part of the Orascom Telecom Holding company, Orascom Telecom Algerie enjoys all the benefits that is associated with its parent company while being the second most successful territory for the group. Orascom Telecom Algerie was launched in 2002 and trades under the name Djezzy in the country, and has about 16.5-million subscribers with 55.5% market share. In terms of the Top 500 companies in Africa across all sectors, Orascom Telecom Algerie ranks 79th in revenue.
Revenue for 2011: $1.79-billion
8. Mobinil (Egypt)
Founded in 1998, France Télécom (Orange) owns 94% of the company, with 5% shares owned by Orascom Telecom founder Naguib Sawiris. At the end of 2010, Mobinil had over 30 million subscribers and its coverage extends to more than 99% of the Egyptian population. Mobinil has also been at the centre of many disputes between France Télécom and Sawiris, but this situation has been resolved after France Télécom bought up a large amount of shares, leaving Sawiris with his current 5%.
Revenue for 2011: $1.5-billion
9. Safaricom (Kenya)
With Bob Collymore as CEO, Safaricom is the largest mobile service provider in Kenya and was formed in 1997 while being a fully owned subsidiary of Telkom Kenya. Two years ago the UK-based mobile service company Vodafone, acquired a 40% share in the company. At the end of 2010 Safaricom had approx. 12-million subscribers, with most of the residing in Nairobi, Mombasa, Kisumu and Nakuru. Safaricom managed to boost their subscriber numbers in 2012 by being the first east African nation to provide its users with 3G technology – while 4G is also on the cards.
Revenue for 2011: $1.3-billion
10. Telecom Egypt (Egypt)
In contrast to Orascom Telecom, Telecom Egypt is the largest fixed-lined telecommunications operator in the Egypt, and also one of the oldest – having started in 1854. Currently the company enjoys a subscriber base of over 12-million, making it one of the largest fixed line providers in the Middle East. But the company is not just focused on fixed line services, as it also has a 44% stake in Vodafone Egypt.
Revenue for 2011: $480-million
* Sources: MTN financial results 2011, Vodacom financial results 2011, Telkom financial results 2011, Safaricom financial results 2011, Mobinil financial results 2011, The Africa Report, Wikipedia